Blue Stingray's Rhys Murray Earns Magento 2 Expert Certification

Lead web developer Rhys Murray is now an Adobe Certified Expert Magento Commerce Developer. 
Magento is one of the world's most popular e-commerce platforms, used by over 200,000 online retailers to handle more than $155 billion in transactions every year. While the platform is scalable and powerful, utilizing it effectively requires significant expertise. Certified Magento developers must demonstrate knowledge and skills needed to customize various aspects of Magento 2 in real-world settings.
In Sept. 2019, Rhys earned a Magento Certified Professional designation, a necessary prerequisite for Expert certification. He completed the expert examination and received Certified Magento Expert status in January of 2021.

"The expert certification exam is a huge jump in difficulty from the professional certification exam," Rhys says. "The Certified Professional exam is more centered around general knowledge, while the expert exam forces you to put that knowledge into practice to solve real-world problems and implement customizations a client would need. Rather than just knowing simple (but important) things like where certain files should be placed or how themes are generated, the expert exam requires a holistic understanding of how the entire interconnected system works."
Building a Successful Approach for Magento Expert Certification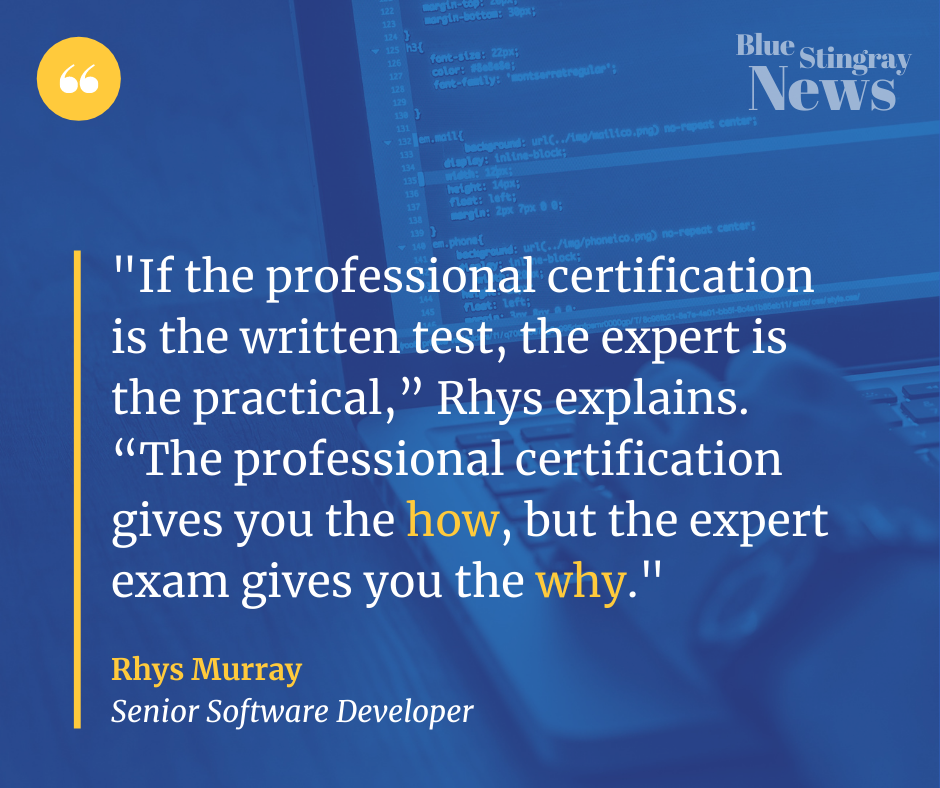 The examination is notoriously difficult, and many developers work on Magento systems for years before earning the credential. To help other developers pass the examination, Rhys is currently working on a guide, which will be available on Blue Stingray's website in the near future.

Rhys says that hands-on experience is essential for passing the exam.

"With the expert exam. you're asked open ended questions that might have multiple correct answers, and sometimes, you only have the option to choose one of them — in other words, you can't simply know how to solve the problem, you need to know the best way to address it. Without a fairly deep understanding of Magento's numerous modules, components, and features, you will fail this test. You need to dive in and work with the code and framework directly to stand a chance."   
Rhys joined Blue Stingray in July 2012. By earning Magento Expert certification, Rhys will be able to provide Blue Stingray customers with a wider array of custom solutions.

"If the professional certification is the written test, the expert is the practical," Rhys explains. "The professional certification gives you the 'how,' but the expert exam gives you the 'why.' And by gaining a more intimate knowledge of the codebase, that 'how' and 'why' directly translates into real-world applications. We're able to solve problems our clients run into every day in a very efficient way."
"That understanding also gives us the ability to build featuresets on top of Magento, including connectors, API work, and entirely new features and functionality. A cursory knowledge of the system simply won't let you approach those types of projects." 
Blue Stingray is a Magento Partner. To learn more about our enterprise ecommerce solutions or to sign up for a demo, visit our Magento page. For access to Rhys's upcoming guide to the Adobe Certified Expert Magento Commerce examination, sign up for our email list or follow us on social media.