Blue Stingray is now an inRiver Silver Partner
Blue Stingray is pleased to announce that we are now an inRiver partner and developer. This adds to our full suite of Magento development and Odoo implementation tools, ensuring that we're able to offer a comprehensive set of ERP, e-commerce, custom application development, and CMS solutions for our clients.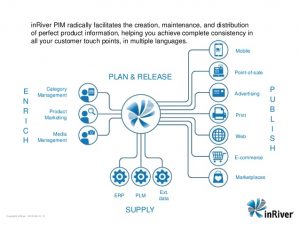 inRiver is a enterprise-level product information management (PIM) platform with features including single-click creation of product catalogs, simple data management with third-party systems, and fast, precise onboarding of supplier data.
Some of the benefits of inRiver include:
An Established PIM Platform
inRiver provides an established portal for users, allowing complete control and overview of the four core stages of PIM (Supply, Enrich, Plan & Release, and Publish).
A Controlled Process with Validation
inRiver allows B2C and B2B enterprises to obtain all necessary information through a single channel. Large volumes can be easily managed, and a validation process helps to limit errors.
Supplier Onboarding
A simplified onboarding of supplier product information allows for improved quality and error-free content.
Predefined Mappings
Templates are predefined, which helps to save time while reducing complexity.
Merchandize Capabilities
Businesses can create assortments, looks, bundles, rooms, packages, campaigns, and more, providing high-quality product information for a better customer experience.
Blue Stingray sent their top Magento and custom application developer to Chicago for a week to train, test, and become a certified inRiver developer. The programmer also received an extensive
overview of all of inRiver's user functionality. A test must be passed to become an official inRiver developer that covers remoting API, server extensions, the inRiver Connect concept, and inbound/outbound connectors. Our developer passed testing on his first attempt.
As an inRiver solution partner, we're able to expand our service offerings, provide new functionality, and create effective, innovative solutions for clients in a variety of industries.