How Blue Stingray Uses Odoo: A Case Study
Blue Stingray is a Saint Louis based agency dedicated to building responsive websites, enterprise cloud solutions, and mobile apps. We put a strong emphasis on enhanced productivity and an improved user experience.
Our main focus is developing enterprise cloud software solutions built on open-source platforms such as Odoo ERP and Magento. We also use those same solutions to develop and grow our own business.
The Problem: Finding The Perfect CRM or Project Management Tool
As a software company, Blue Stingray performs a variety of custom development projects for clients in various industries. In our day-to-day operations, organization is absolutely an essential element, so we looked for a project management tool that would allow us greater level of collaboration and efficiency.
We needed a system that would help us stay on top of ongoing projects while finding new clients, sending out newsletters, and managing other aspects of the sales funnel. We quickly realized that we needed a dedicated software solution.
To manage multiple software projects, we couldn't rely on inexpensive project management tools, as they were too simplistic and limited in design. While more expensive management tools offered some of the features we needed, they were costly, clunky, and overall inefficient.
This was also true for off-the-shelf sales programs, which were either prohibitively expensive or far too simple. We needed a sales program that fit with our day-to-day tasks, from finding leads to generating quotes. We needed a solution that would allow us to hit the ground running.
No readymade project tool was flexible enough to adapt to Blue Stingray's workflow, so we set out to make our own custom solution with Odoo. That required a careful assessment of our business's requirements and needs.
Creating Custom Sales and Project Management Solutions
The Blue Stingray development team followed the same process we use to plan projects for our clients: We studied how our business worked, then created a wishlist of items that would make our lives easier. We looked at ways to improve our customers' experience and we analyzed the steps our sales team takes when onboarding new or potential clients.
For a project management solution, Blue Stingray decided to develop custom Odoo apps with the various small features we needed to optimize our internal processes. We also wanted our clients to be able to track project tasks and make change requests.
(Note: All of our custom Odoo apps are now available for download and purchase in Odoo app store; find them here.)
We took a similar approach with sales. Blue Stingray leveraged the considerable power of Odoo to design an easy-to-use CRM suite with customized solutions. Within Odoo, we would be able to create new leads, send out email updates, contact potential clients, and perform other tasks vital to our business. Our team would be able to work efficiently and stay organized—without learning an overly complex new CRM.
The Help Desk: Giving Our Clients More Access and Faster Service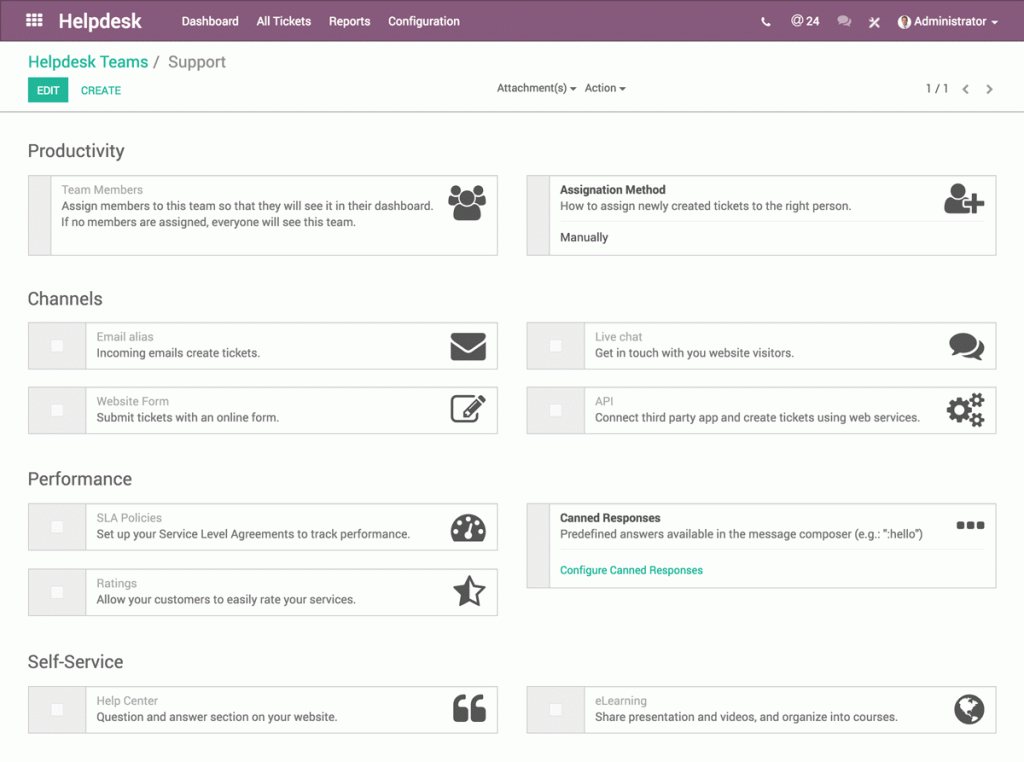 One of the most important components of our custom Odoo implementation was our help desk, which provides our clients with an efficient, organized way to communicate with our team.
Our implementation links project management with the help desk. Clients can access the help desk via a special portal with limited permissions. They can submit requests via an in-depth ticketing system, and where necessary, they can easily view estimates per ticket.
Blue Stingray's team access a separate Ticket Manager portal, which allows them create estimates, break projects into stages, and more. This streamlines new requests and ensures that high-priority tickets receive attention right away.
The Results: How Odoo Experts Benefit From a Custom Implementation
At Blue Stingray, we understand how customization can change everything about how a business runs. We promote Odoo and other open-source solutions for that reason: A CRM or ERP should conform to the established processes of a business, not vice-versa.
Our custom project management tools fit with our business, giving our team an easier way to manage projects. Clients can submit change requests or support tickets with real-time tracking information; our team benefits from an efficient, streamlined project management approach.
The CRM has also helped significantly with our sales team's processes, which has led to more closed deals and an increase in revenue. We are able to attract more business without falling behind schedule. Our custom Odoo solution gives our sales and development teams exactly what they need at an affordable cost.
To find out how Blue Stingray can help with your Odoo implementation, contact us today and request an estimate.